Preparing for 5G: which programs do you need to run?
5G program execution will test telcos like never before.
These programs will be brutes to manage. Coordinated program management – where everything is mapped out and joined up – is the only way to success. That's what we've been doing for 30 years.
Let's share with you the story of how our unique approach came about and how what we've learned will get your 5G programs over the line.
Benefits of a Jigsaw Puzzle
Not long ago, we came across a slide used in 'new' client presentations – 25 years ago. The idea behind the slide was to help explain simply to management teams how various bits and pieces of a telecoms technology platform hung together.
A Retro Telco Technology Platform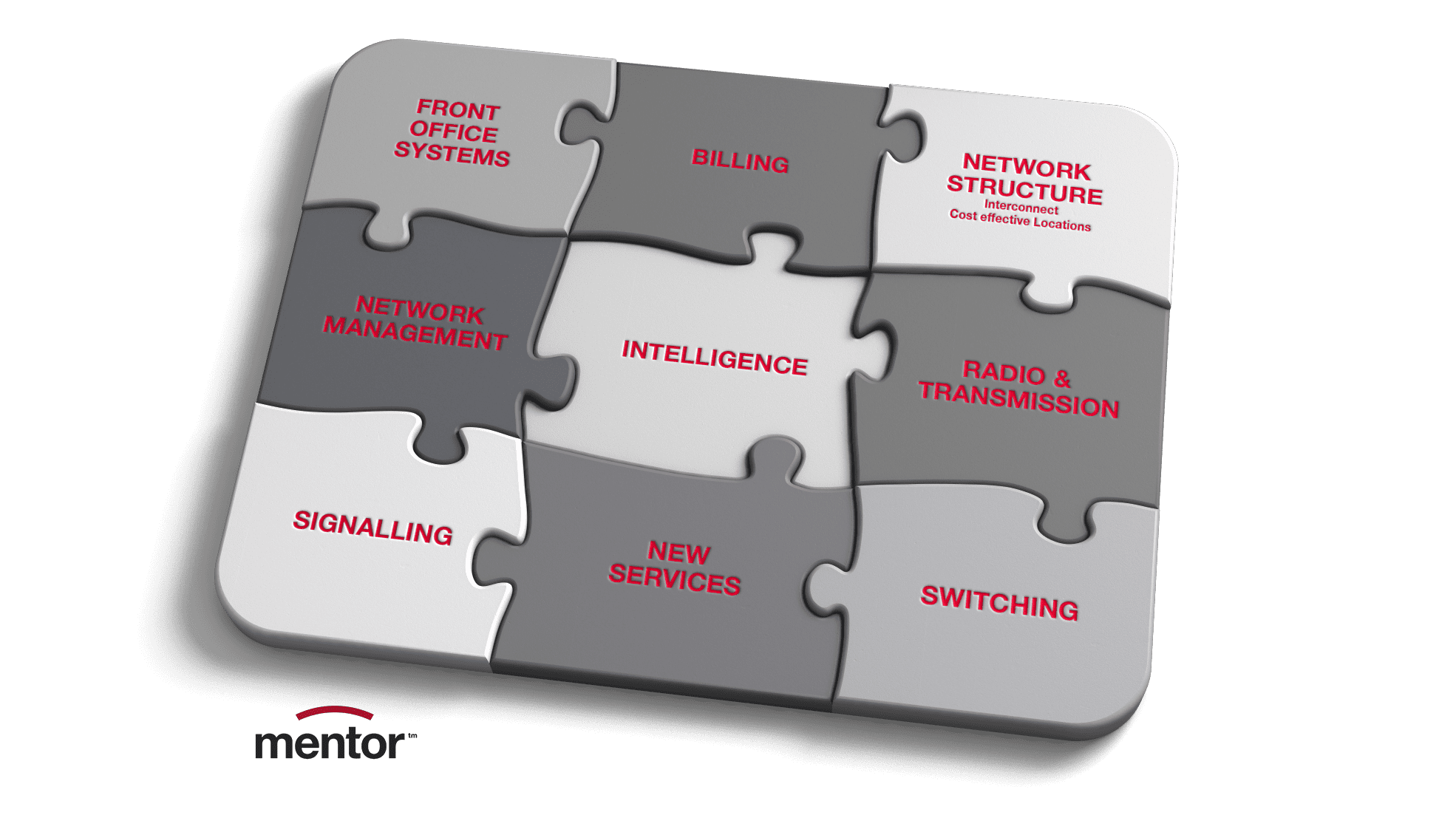 At the time, this was a very simple and effective way of talking about a telco technology platform; how each component related to others – and what systems had to be considered when making major changes in your business.
As time passed – and technology progressed – we kept these images up-to-date. It was a simple way to quickly put complex topics into plain words for senior management.
Our latest slide reflects what the technology platform will look like in a 5G world. As you'd expect, the key components and their relationships have radically changed in 25 years.
Mentor's 5G Technology Platform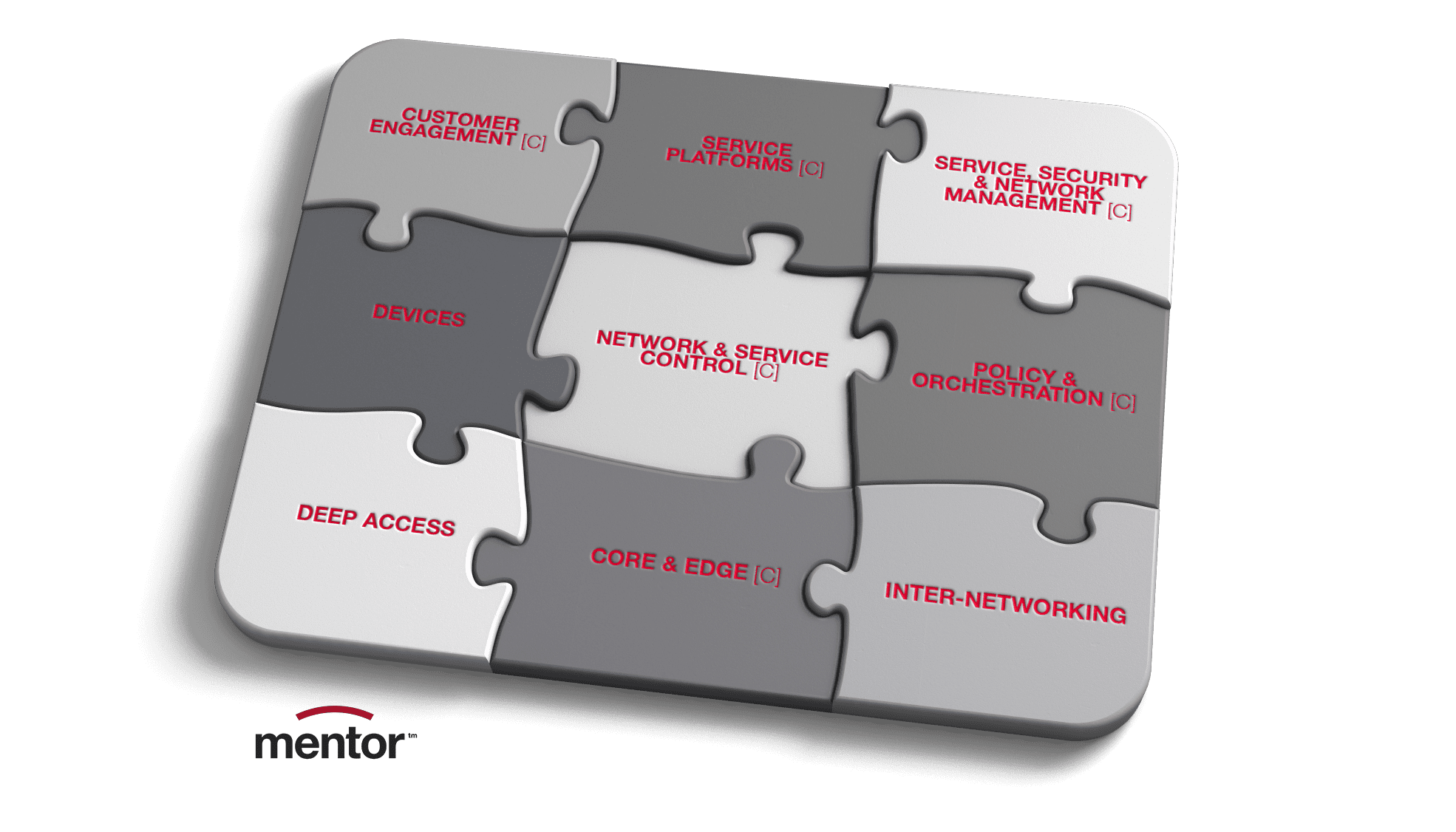 [C] – major opportunities for 'Cloud' centralisation and virtualisation
We chose a Jigsaw puzzle motif, because it is universally understood.
It helped clients quickly grasp the major inter-relationships between the different components of the technology platform in a telco business and allowed us to highlight and describe the essential points about telecoms infrastructure.
It also allowed us to show new businesses how they could tackle a perennial problem – launching products and services into the market considerably faster than the incumbent – and more importantly the competition.
A Word on Product Strategies
Back then, the typical life cycle for a meaningful new product was anywhere between two and three years, sometimes longer.
Time 'dribbled' away just developing the product – and then installing new infrastructure to host it.
Infrastructure was usually expensive and time-consuming to roll out. The costs were usually out of all proportion to product development costs.
In truth, many product ideas never got past PowerPoint, simply because the extra infrastructure costs were judged to be too high – sinking the business case.
Slowly people realised the insanity of this cognitive error.
Infrastructure was different to individual product investments – which normally required a rapid payback. Infrastructure business cases should have been weighed against longer-term criteria. Mostly, because costs would 'stretch' over many products – not just one. But many weren't measured that way.
Worse, if a business waited until it had a new product requirement – before starting a program – it was virtually certain to miss its market window because of the long-winded processes involved.
In many cases, the market window was lost completely – making an expensive 'new' product completely irrelevant – because a competitor had moved much faster.
What's more, we all know requirements continually change as new programs execute – especially when customers get involved – and when competitors finally wake up.
Aside from explaining the distinct elements of the technology platform, the Jigsaw forced management to look more broadly at infrastructure investments.
Causing them to check the integrity of each element underpinning future product and revenue targets – and also how they were likely to impact the whole picture.
The bottom line was 'winners' needed the momentum of an incumbent and the quality of a start-up. And this remains just as true today.
Pulling all the threads together
Our platform still offers clients a tidy way to accelerate technology change in their organisations with vastly increased precision and accuracy.
It shows leaders where they are investing – and where they should be investing. It also shows how everything fits – even the boring bits – what bits need to change; and, what bits need to be managed as crucial reusable components in their overall enterprise architecture.
Whether you are a large complex organisation – or an aspiring start-up – we all need a map to help sidestep the 'silent complexity' that can stop us dead in our tracks. It frees up precious management time to put together fast, profitable product and technology launches.
Mentor's 5G technology platform is a major shift
But if all this was true 25 years ago, isn't it just as true now?  Or perhaps industry and standards have just built an entirely new jigsaw for us to lift off the shelf?
This thought led us to our 5G technology platform. Judge for yourself.
The good news is that the industry has got a new blueprint for the 5G and full-fibre Internet world we are entering. The innovations are inspired by network simplification, commoditisation of computing platforms into the Cloud – and the need to engage customers with random new services and service models, via their super-intelligent devices.
Many of the issues that inspired our original jigsaw are now reflected in the core standard architectures. While this is definitely good news, it does mean that we have a new landscape to migrate to. And a myriad of new technologies and acronyms to manage.
And guess what – there isn't a map for us to use.
Our new 'jigsaw' offers a Map of this new world.
It's not intended to be a universal signpost for technology – it's not a 'cure-all'. But it gives enough information about the interrelationships – and forces a searchlight on a set of programs telco players should be running – right now – to get there.
Mentor's 5G Technology Platform

[C] – major opportunities for 'Cloud' centralisation and virtualisation
What is this Shift?
The days of narrowband circuit-switching, centralised intelligent networks, and stove-piped platforms are long gone.
Our focus is now firmly fixed on service-aware broadband data and content delivery.
Voice is just one of many applications these days.
Mobility, personalisation and security are central. Can anyone disagree with the impact of over-the-top services, multi-media and smart phones?
Now, three ecosystems – 5G, Full Fibre Access and the Internet – are teaming up to provide the platform for the future.
Network operators can expect extraordinary levels of functionality and integration. Vast tracts of their infrastructure will adopt SDN/NFV technologies, distributing processing – and storage across the network.
All with centralised control.
The prospect of creating new services 'on-the-fly', using universal policy management and orchestration is closer than ever. But, this also brings with it widespread levels of vendor and systems interdependency.
Perhaps, three ecosystems coming together is a tad misleading.
At best, they are reluctant bed-fellows. At worst, tectonic plates slowly colliding – forming new peaks for some – and earthquakes for others.
Network operators are faced with almost limitless choices over where to invest capital, where to differentiate, where to attack, where to capitulate – or whether to simply go with the flow.
Prompted by 5G, the good news is the whole industry is working towards the same high-level architecture that's been designed to match the key principles we've sketched out here.
Even the names tell you these new components have been designed with immense flexibility.
For example, Software Defined Networks, Network Function Point Virtualization, Policy and Orchestration, Network and Service Control, Access and Core.
Plenty of clues in these descriptions, wouldn't you say?
So what does this mean for you?
The transition
We don't have a choice. We must switch to these new platforms. Pretty soon we won't be able to buy anything else. It's a whopping job, and it's not like we don't have enough to do already –managing what will soon be euphemistically called, legacy.
The reality
We really like the new technologies and architecture.  They're coming anyway, so it wouldn't matter if we didn't!
They promise unparalleled flexibility to create and deploy new services and technologies in 'double-quick' time.
But these new benefits bring their own challenges. Typically, problems will shift. Removing one blockage could easily expose other bottlenecks downstream.
The organisations that succeed in the next few years will switch – very fast – to the new architecture with vastly improved processes to make the most of their advantage.
What should you do now?
With 3 solid decades of battle-tested experience behind us, we are uniquely placed to help you 'demystify' the new architecture.
We know what works – and what doesn't. We can help you get those big judgement-calls right so you can create a precise, tailor-made execution plan.
It's not just hints and tips either.
We can guide you safely through your transition – at full tilt – to bring your new 5G map to life.
Every situation is unique. Unless you're a greenfield start-up, no one will be starting from scratch.  Everyone has a different starting point. That's for sure.
It's dangerous to be prescriptive in figuring out solutions. But understanding what those big judgement calls are – and getting them right – gives every technology transition the best possible start in life.
Mentor's 5G technology platform will help create a 'no-nonsense picture' of all the interrelationships between your technology platform elements. It also forces heat and light on the 'bridge programs' you need to run – and critically what skills, resources and experience you need to get these 5G programs across the line.
Want to find out more about the topics discussed in our blog?


Get in touch with one of our experts for a confidential chat.