Why fibre is needed for 5g deployment
Developments in technology and their application are the primary drivers for 5G, transforming our lives and stimulating economic growth. Here are some of the areas where 5G will play an essential part:
Internet of things (IOT)
Driverless cars
Robotics
Virtualisation
Virtual reality
3d printing
Wearable internet
Artificial intelligence (AI)
Drones
Block chain
Augmented reality
Digital money
Big data
Machine to machine (M2M)
The growth of internet users, devices and data per consumer
Between 2016 and 2020, there will be a two-fold increase in internet users, a seven-fold increase in devices and a twenty-two fold increase in the amount of data used by every consumer.
Higher bandwidth and lower latency application demand
Certain applications demand higher bandwidth and lower latency that can only be delivered by 5G.
To deliver 5G and anticipated high traffic volumes, fibre is considered the best solution, and is the most efficient medium to support explosive data growth.
Mobile technology and required fibre deployment

| | | | | |
| --- | --- | --- | --- | --- |
| Mobile technology | 2G | 3G | 4G | 5G |
| Fibre deployment | Dense urbane and intercity | Urban, suburban, and rural | Between mobile towers and backhaul | Small cells, FTTP and in-building |
Global fibre demand is increasing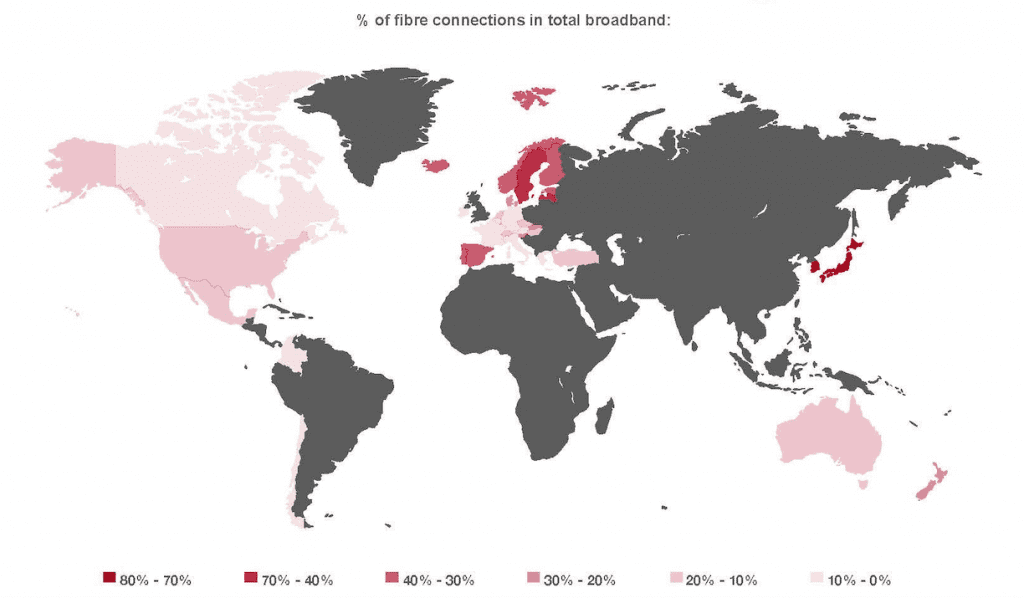 Global fibre optic market to grow at a compound annual growth rate (CAGR) of 9.49% during the period from 2016 to 2020.
How can fibre address 5G network densification challenge?
Higher fibre count cables provide sufficient capacity for the future
Fibre allows speeds of over Gbps
Greater deployment of fibre in the access network to support increased mobile backhaul and small cell rollout
With such a growth in demand, preparation for 5G is essential. Find out more about network densification for 5G.